Understanding De Facto Partner/Spouse Visa (subclass 820/801 or 309/100) Visa (Part 1)
Your subclass of Australian partner visa will depend on whether you are on-shore or off-shore and if you are in a de facto, married relationship or planning on getting married.
Here are some frequently asked questions for the Australian partner visa and tips to help get you started.
As with most everything you need to get done, the first question to ask is where do I start?
Well, I suggest you start with which kind of relationship you are in, depending on those details is how you can figure out which documents you will need.
Are you engaged, married or in a de facto relationship? All of these relationships will be asked to show different forms of evidence for their visa application.
De Facto Relationships
How does immigration define and what makes you eligible for a de facto relationship via the partner visa?
You must be sponsored by an eligible person, in most cases this is your partner.
You're not in a married relationship with each other;
You are not related to your partner;
You're in and can show a mutually committed relationship to share a life together with the exclusion of all others;
It is and you can show a continuing relationship, that is genuine;
You live together or do not live separately on a permanent basis and have evidence to provide this is true;
You both must be 18 when you submit your unmarried partner visa application;
Your relationship must have been on-going for the entire 12 months before the application is submitted;
You must also meet health and character requirements.
When immigration assesses a de facto relationship for the de facto visa, they take a look at certain kinds of evidence, such as are you living together full-time, do you share social and important financial commitments together, and have you set up a household completely separate from other people.
Please note: Periods of "dating" do not count toward the 12 month requirement.
EXCEPTIONS for the 12 month requirement:
You can show compelling and compassionate circumstances. For example, you have children with your partner or in the country you reside it was not lawful for you and your partner to cohabitate.
Your partner is, or was, the holder of a humanitarian visa, and you were in a de facto relationship, which meet the requirements according to the Migration Regulations and you informed immigration of this before the humanitarian visa was granted.
Your relationship was registered under a law of a state or territory written in the Acts Interpretation (Registered Relationship) Regulations 2008 as a kind of relationship needed in order to register. Not all states and territories have these regulations, to get more information on eligibility please refer to the Births, Deaths, and Marriages agency.
Partner visa Checklist for the Australian De facto Visa
You will need to provide documentation to support your Australian partner visa application. It will be in your best interest to provide as much information as possible to immigration with your application.
Please be sure to provide certified copies of your original documents. If immigration requires the original documents they will ask you for them, so leave them out until needed.
Be sure to provide accredited English translations for documents not in English. If you apply online, you may send in your scanned certified copies, which will be attached to your application through your ImmiAccount.
Required Documentation:
You must submit a Form 47SP called an Application for migration to Australia by a partner.
You must submit a Form 40SP called a Sponsorship for a partner to migrate to Australia.
You can apply online through ImmiAccount, by post, or in person.
Form 956 which is called advice by a migration agent/exempt person of providing immigration assistance
If you wish to have someone else receive correspondence from immigration on your behalf, you would need to fill out the Form 956A called appointment or withdrawal of an authorised recipient
Be sure to pay the visa application charge, this can change from year to year. You can check these charges on the immigration website.
If your sponsor paid the application charge for you then you will need to provide the original receipt to show they have paid. If your sponsor has paid the visa application charge then you must lodge your application by post or in person.
Your personal documents that will be required for the de facto visa
Your identity/ proof of ID
Please provide certified copies of the biographical pages for the passports or travel documents for everyone included in your application. (These pages will include the holder's photo, personal details, date of issue and the date of expiry.)
Two current passport sized photographs (45mm x 35mm) for each person included in the application. Please be sure these pictures are just of the head and shoulders, as well as, on a plain background. Write the person's name on the back of the photographs.
Please have a certified copy of your birth certificate, showing both parents names. If you are unable to provide a birth certificate nor can you get one, you would need to provide one of the following :

Family book showing both parents names
Identification document issued by the government
Court issued documents given by the government that verify who you are

If you have a national identity card, please provide it.

Please provide a certified copy of name change, if anyone in the application has had a name change.

If you cannot provide any of these documents, you must provide some proof that you are who you have claimed to be.
Your sponsor's identity and requirement documents.
Required Sponsor Documents
Provide evidence that the sponsor is an Australian citizen, Australian Permanent Resident, or eligible New Zealand citizen. This can include a certified copy of the below:
Birth certificate
An Australian passport or foreign passport containing evidence of permanent residence
An Australian citizenship certificate
For New Zealand citizens, evidence of how long you have resided in Australia and of your continuing links to Australia.
Evidence where your Sponsor resides
If your sponsor is not an Australian citizen: you will need evidence they live in Australia, usually. Such as:
Please show evidence of ownership or rent of a house in which your sponsor resides
Proof of Utility accounts ( gas, telephone, electricity)
Provide other bills for living expenses (food, water, toiletries, etc.)
If you or a dependent child is younger than 18 years old
If you or a dependent child is younger than 18 years of age, please provide the following for the sponsor:
Would need to have a Australian Federal Police National Police Check done for your sponsor, if the sponsor has spent acumulative total of 12 months or more in Australia since they turned 16 years of age.
A certificate from the police from every country the sponsor spent a cumulative total of 12 months or more in the last 10 years after turning the age of 16.
Health and Character documentation for the unmarried partner visa.
Health Examination
If you are required to take a health examination, you will need to arrange your exam before the lodging of your visa application. Please include your health identifier (HAP ID) when you complete your application form.
Health Declaration
By using My Health Declarations, you should be able to confirm whether or not you need to undergo a health examination and indicate this when lodging your visa application form, stating I have organized my health examination as I am considered to have met this requirement.
Evidence that everyone in your application has adequate health insurance in Australia
You need to provide evidence that everyone in your application has adequate health insurance in Australia. Please provide immigration with one of the following:
A letter signed by a health insurance provider
A receipt from enrolment or card from Medicare
Some form of evidence of adequate health insurance (including travel insurance)
If you are eligible for Medicare when you arrive in Australia, and you are from a country with a reciprocal health care agreement, please provide evidence of adequate health insurance (including travel insurance) to be covered until you can enrol in Medicare.
Proof that you hold a passport from the Republic of Ireland
Show that everyone included in your visa application has applied for an Australian Federal Police National Police Check
Please show that everyone included in your visa application has applied for an Australian Federal Police National Police Check, providing they are at least 16 years old and have spent at least 12 months or more in Australia since they were 16 years of age.
You will be able to find the form for your police check on the Australian Federal Police website, in the online form or paper form.
Visa applicants should check off Code 33 in section 8 of the form.
You will not have to provide fingerprints with the police check.
If you are successful in your police check application you will receive a 'National Police Check' certificate, which will have the heading 'Complete Discloser.'
Overseas police certificates for anyone in your application
Please include overseas police certificates for anyone in your application, if they have spent 12 months or more since turning 16 years old, in the last 10 years for each country they were in.
These need to be the original certificates, but keep a copy for you as well.
If anyone in the application has served in the armed forces, please provide a certified copy of their military service record or discharge papers.
Your relationship information
Marriage Certificate
Certified copies of your marriage certificate (de jure) or registered relationship information for you or anyone else listed in your visa application, even if they will not be joining you in Australia.
Genuine Evidence of the relationship
Please note: If you are applying on the basis of marriage and have the marriage certificate, this is not enough, you must still provide genuine evidence of the relationship to be granted the visa.
Another Document / Certificate for de facto Partner Visa application
If anyone in the application, including yourself, has been widowed, divorced or permanently separated you will need to provide a certified copy of the death certificate, divorce documentation, or statutory declaration separation documents.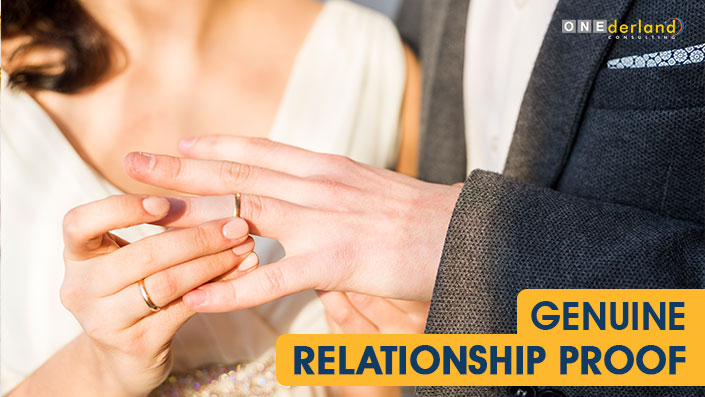 Showing your relationship is genuine and continuing
You must include documentation that proves your relationship is genuine and continuing. Statements you provide can include, written statements or statutory declarations.
These statements must be signed and dated by their authors. A statutory declaration must be signed by two witnesses.
Remember, you can attach all supporting documents to your ImmiAccount.
You should provide the following:
Form 888
which is a statutory declaration by a supporting witness that relates to a Partner or Prospective Marriage visa applicant (have been completed by two Australian citizens or permanent residents who have personally seen and have knowledge of your partner relationship).
Details from the history of your relationship
In your statements about you and your partner/spouse you should mention the following:
How you and your partner met, when it happened and where
Details of how your relationship developed over time
Exactly when you decided to start a de facto relationship or get married
Your arrangements domestically (such as how you support each other financially, physically, and emotionally and when this level of commitment started).
Any periods of separation (when and why this occurred, for how you maintained the relationship while you were apart)
You and your partner's plans for the future
NOTE: if the applicant is applying off-shore, you must show regular communication between the two in the relationship, joint travel as well indicating how much time they have spent with each other. Please include as evidence, photos from this time period and statements from family and friends.
Relationship financials evidence
You would also need to provide immigration with documents to show that you and your partner share financial commitments and responsibilities, these can include:
Proof of any joint ownership of real estate or any other major assets (for example, cars, home, appliances, etc.) and/or any joint liabilities (such as, loans or insurance).
Show that you and your partner share the finances
If you and your partner have any legal commitments you have undertaken together.
Show that during a reasonable amount of time you and your partner have operated joint bank accounts.
Proof that the household bills and expenses are shared
Some other examples could be, mortgages taken together or naming each other as beneficiaries under your respective wills or insurance policies.
Explain the nature of the household
Documented shared responsibilities should be shown in your household, such as:
Living arrangements together
A statement mentioning how your housework is distributed
A joint rental lease or joint ownership documents of the house in which you reside
Utility accounts being shown in both names (for example, electricity, gas or telephone)
Both you and your partner are responsible for the day-to-day living expenses
Both share in caring for any children
Correspondence addressed to both you and your partner at the same address
Social aspects of the relationship
You will need some evidence showing how your relationship has been seen by your friends and family, this will be considered in the application as well. Some examples include:
Documents showing that you and your partner are usually accepted as a couple socially (examples include, joint invitations, evidence of going out together, common friends and acquaintances, photos showing you and your partner out together with family).
You could use statutory declarations from your partner's parents, family members, relatives and other friends relating to the assessment of their take of the nature of your relationship.
Documentation of traveling together
Proof that you and your partner have declared your relationship to some governmental bodies, public or commercial institutions or authorities, joint membership in organisations or groups
Evidence of participating in sporting, cultural or social activities together
How to show the nature of your commitment to each other
The evidence or documentation below can help you show your commitment to one another:
Documents, statement, or by word of mouth which you can establish in the interview, that you know your partner's personal circumstances (for example, their background or family situation).
You could should show your intent to for your relationship to be something you and your partner see as continuing long-term (such as, how much you have combined your affairs)
What you and your partner's will states
Evidence of correspondence and an itemized phone record that shows contact was maintained thru any periods of separation (such as, emails, Facebook or chat messages, phone calls or text messages)
Any of your children or dependents on the application with you
You will need a certified copy of all your dependent children's birth certificates or the family book showing the names of both parents.
Proof of financial dependency
Proof of financial dependency for all family members, children and dependents over the age of 18 years or above (such as evidence of their current studies) For the dependents 18 years and over you will need:
Evidence of their relationship to you, along with a certified copy of their birth certificate.
Proof that they live with you in your household.
Be able to show that they have been financially dependent on you for the last 12 months or more, immediately before the lodgment of your application.
Would need to provide certified copies of any adoption papers, if any of the children under your care have been adopted.
If the other child's parent is not listed and you wish to bring them to Australia with you, please provide documentary evidence that you have the legal right to bring that child (under the age of 18 years) to Australia.
These documents would be included in fulfilling this evidence:
Official legal documents that are certified copies, such as a court-issued parental responsibility (custody), assess or guardianship order
Statutory Declaration from the other parent giving their full permission
Form 1229 called consent form to grant an Australian visa to a child under the age of 18 years. If you use this form you will need to attach a certified copy of the other parent's identification (government issued) document such as, a passport or driver's license, with their photograph and signature.
ONE derland Consulting has extensive experience dealing with de facto partner visa cases or other complex partner visa cases, to find further information on your options and eligibility for Partner/Spouse (subclass 820/801 or 309/100) Visa, please contact our office on (+61) 089477-5831 or email: [email protected].