Here is what you need to prepare before applying for an Australian Visitor Visa 600 in 2023
Do you want to visit Australia with an Australian Visitor Visa 600?
Australia has endless sights to see, amazing experiences to have and not to mention an amazing culinary and wine scene. Maybe you have some business activities to attend to while visiting Australia? Do you have family here you wish to come to see? All of these require a type of tourist visa to enter Australia.
Would you like some help preparing for your visitor visa application?
Why don't we go over all the different streams and subclasses for the visitor visa in Australia?
Australian Visitor Visa (subclass 600)
You can visit Australia on this type of visa for:
A visit or for business visitor purposes;
Up to three, six, or twelve months.
Currently, the base charge for the visitor visa 600 for applicants outside Australia/offshore is AUD $190 for all streams (excluding Frequent traveler streams), and AUD $1,395 for frequent traveler streams. For applicants in Australia/onshore, the base charge is AUD $475 for tourist streams only.
eVisitor (subclass 651)
If you are currently the holder of a specific passport (from a country listed in the eVisitor article), you may be able to apply for a free or cheaper visa. This is the eVisitor (subclass 651) visa and is free of charge for holders of certain passports (from a country listed in the correct article).
Electronic Travel Authority (ETA) visa (subclass 601)
If your country is not listed for the free eVisitor visa (subclass 651), your country may be on the list for the Electronic Travel Authority (ETA) visa (subclass 601). The service charge for the ETA is AUD $20.
Brief details of the overall requirements for an Australia visitor visa
You may be granted this visa, if you are traveling to Australia, for the purpose of:
Visiting;
Activities involved with a business;
To visit with family;
To tour with a registered travel agent from the People's Republic of China.
If you are currently in Australia, you may be able to apply for the tourist stream of the visitor visa online, as long as you currently hold a valid visa that does not have the condition of 8503 ("no further stay").
If you are currently in Australia, only certain passport holders can apply for this visa online.
If you cannot apply online, you can always lodge a paper application at your nearest Australian Immigration Office.
There are four different streams for Visitor Visa Australia (subclass 600):
Tourist stream;
Business stream;
Family-Sponsored Stream;
Organized tour from China.
I recommend applying for this visa up to two weeks ahead of when you want to travel to Australia if you are from a low-risk country. If not, you should apply at least a month in advance to allow for Immigration to assess your case fully.
Document Checklist for Australian Visitor Visa subclass 600 application
Australian visitor visa application requirements are different from country to country. If you are currently overseas, your nearest Immigration Office will tell you exactly how and where to lodge your application and what documents you will need to provide.
You need to provide documentation to back up your application for this visa. Immigration can and will make a decision using only the information you provided when you lodged your application.
It is in your best interest to provide them with as much information and evidence as possible when you apply. Please provide certified copies of your original documents.
You won't need to include original documents unless Immigration specifically asks for the originals.
Except for police certificates, they should be the originals. If your documents are not in English, they must be followed by an accredited English translation.
There are three types of Visitor Visa documents that you need to provide, these are:
Identity documentation;
Character requirement;
Genuine visitor document.
Use the below checklist for the visitor visa (including all streams) to make sure your application is completely done.
1. Your identity documentation
Certified copies of the biographical pages of the current passports or travel documents of every person included in the visitor visa application (these are the pages with the passport holder's photo, their personal details, the issue, and expiry dates).
One recent passport-sized photograph (45 mm x 35 mm) of every person included in the visa application.
These photographs need to be of the head and shoulders ONLY against a solid color background.
Please write the name of the person on the back of the passport-sized photograph.
If you have changed your name or anyone included in your application has changed their name: please provide a certified copy of the evidence of their name change.
Certified copies of birth certificates for you and any other person included in the application. The birth certificates need to show the names of both parents of every person.
2. Character requirements for the visitor visa 600
If you or others included in the application have served in the armed forces of any country: please provide certified copies of their military service record or discharge papers.
3. Documents needed to show you are a genuine visitor (GTE requirement)
Provide evidence of enough funds, such as personal bank statements, payslips, audited accounts, taxation records, or your credit card limit.
If you are visiting relatives or friends, a letter of invitation from your relative or friend in Australia. If your relative or friend is paying for your visit, evidence that they have the necessary funds.
If you are visiting under the Tourist stream: Your itinerary for your stay in Australia.
Other information to show that you have an incentive and authority to return to your home country, such as:

A letter from your employer stating your intention to return to your job,
Evidence of enrolment at a school, college, or university in your home country,
Evidence of immediate family members in your home country,
Evidence of your visa or residence status in your home country, and your right to return
Evidence of property or other significant assets owned in your home country.
Please be aware, per my observations of our cases throughout the years, higher-risk countries need to provide stronger evidence to prove you are going to return to your home country.
For example, provide evidence of a job to return to, or maybe all of your family lives in your home country, and show assets that you wouldn't want to leave behind.
It can be more difficult to get this visa granted if you live in a higher-risk country but not impossible, let the experts help you get approved for your holiday or vacation.
A visitor Visa for Children younger than 18 years of age needs the below documentation
If you are younger than 18 years of age: please provide evidence that every person with a legal right to choose where you live consents to your travel to Australia for this visa. If one or both parents are not going to be coming with you, you will need to provide:
A statutory declaration giving your parent's permission;
Form 1229 Consent form to grant an Australian visa to a child under the age of 18 years. If you use this form, you must attach a certified copy of your parent's or guardian's government-issued identification document (such as a passport or driver's license) with a photo of them and both of their signatures;
If you are not yet 18 years of age and you will be staying with someone other than your parent, legal guardian, or relative in Australia: you must have a declaration signed by the person who will be caring and responsible for you while you are in Australia;
Provide evidence of enrolment at a school, college, or university.
Visitor Visa Application Forms you need to fill out
An application form (visitor visa (subclass 600)) you have completed.
Visitor Visa Application from High-Risk Countries
If you are coming from a hgh-risk country, you need to provide the following Financial Documents
Certified copies of bank statements (personal and business) over a period of time showing a consistent savings history.
Evidence of any other funds or assets;
Taxation records for the last three years;
If a friend/relative in Australia pays for your visit, a statutory declaration specifying the sponsorship of a relative or friend and proof of their financial capacity to do so – e.g. a letter of invitation, bank accounts and tax records;
Provide financial evidence even if your travel is being funded by a friend or a relative. Your own financial status is a factor considered in assessing whether your personal circumstances would encourage you to return to your home country.
Read More: Applying For an Australian Visitor Visa From High Risk Country 2023
Example of bank statement as evidence of funds:
Visitor Visa document to support Employment details
If you are employed: evidence from your employer – stating your position and salary, length of employment, confirmation of your absence and the name and contact details of the person providing the letter;
If you are self-employed: Business registration;
If you are retired: Evidence of your retirement – for example a letter from your employer;
If you are a student: Evidence of your enrolment such as a letter from your education provider.
From employer as proof of ties to home country: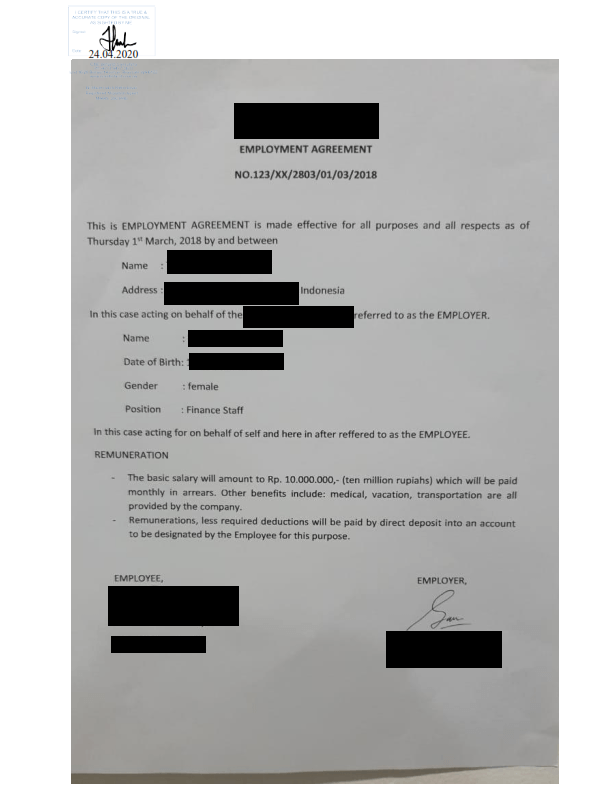 Are you receiving assistance with your Australian visitor visa application?
If an agent or someone else gives you advice or lodges your application for you, please fill out the following form: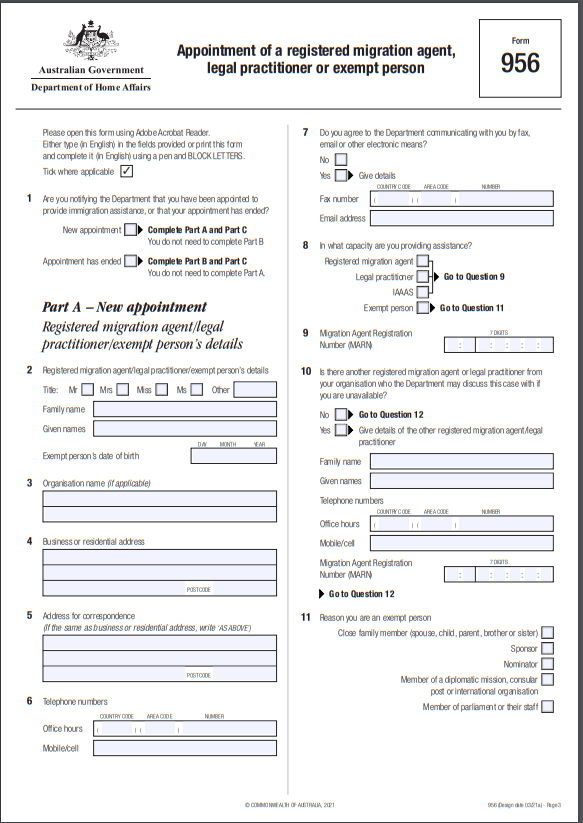 Would you like someone else to receive correspondence from Immigration for you? Fill out the form below: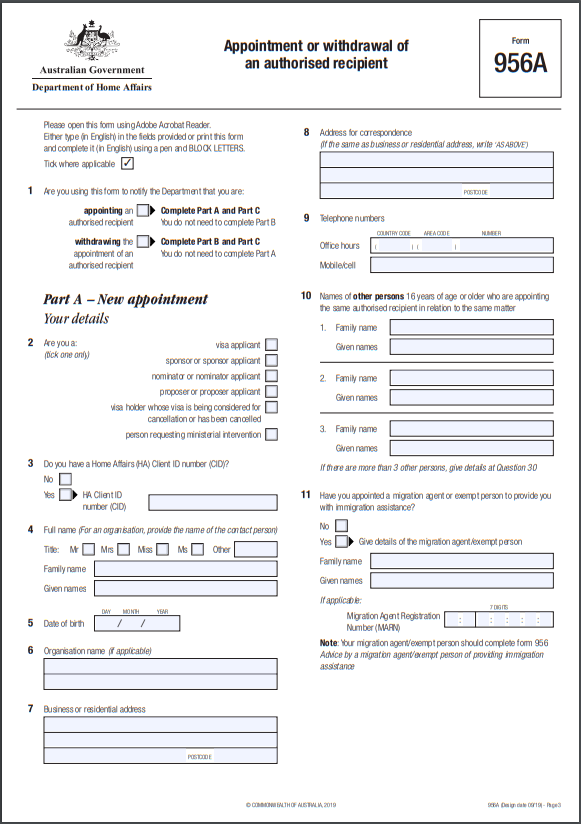 How much does this Australian visitor visa cost in 2023?
If you are applying outside of Australia, then the cost for the Australian Visitor visa – for all streams, is AUD $150. For someone already in Australia, for the tourist stream only, the cost for an onshore extension would be AUD $380.
ONE derland Consulting can assist you in all visitor visa 600 applications, our professional fee ranges from AUD $850 per applicant, depending on the complexity of your case.
Other things to consider when applying for the Australian tourist visa
Have you tried to apply for an Australian visitor visa and were refused? There are quite a few reasons for refusal, but the most common is the GTE requirement not being met.
This doesn't mean you don't have options to try to apply again, you can try right after your refusal if you want, just don't try to submit the same information again, as you will be refused again.
I have found that if you are from a high-risk country, you need to have a really strong case in order to overcome the possibility of Immigration that you may just stay in Australia.
Since this is the case, I would strongly suggest help from a Senior Migration Agent, to help you understand how to make your case stronger, as they know what Immigration is looking for when they assess applications because of the number of them these agents have done.
If you are still confused about how to obtain a partner visa in Australia, you can look for assistance with a visitor visa application with us. We have a 98% success rate and are one of Australia's most highly recommended migration agents. Read our 4.9* score customer reviews.
We are complex visa specialists. As registered Australian migration agents with the Migration Agents Registration Authority (MARA), we are regulated in our professional practice and bound by the profession's Code of Conduct issued by the Migration Agents Registration Authority.
Take the first step and get in touch with us. Our team members are professional and honest and speak various languages, such as Mandarin/ Chinese, Bahasa Indonesia, Arabic, Japanese, and Thai. Contact us through email at [email protected] or via phone at 1300 827 159. Alternatively, you may book your consultation online, and it is backed by our 100% Money Back Guarantee Program.