Pathway to Australian PR: From 408 Visa to Permanent Skilled Independent Visa
These days, there are many options to answer your question about how to get PR in Australia.
If you hold a 408 visa , this visa will widen your range of pathways to apply for permanent residency in Australia.
However, to apply for a certain visa, you need to meet important requirements; some of the options would tell you that this visa has two kinds of applying for another visa, including:
408 Visa to other sponsored visas.
408 Visa to other independent visas.
This article is for those concerned about not having a sponsor, so you may consider the information below about getting a PR through independent visas.
What if you don't have sponsors to apply for permanent resident in Australia?
Point based visa could be your option on how to get a PR of Australia, while being not having a sponsor. 408 visa provides its holders to have a pathway to apply for another skilled independent visa, which consists of the following:
408 visa to Skilled Independent Visa (Subclass 189)
408 visa to Skilled Nominated Visa (Subclass 190)
While you're wondering here these days about how to get a visa without a sponsor, here are the details on converting your 408 visa to an independent visa to apply for permanent residence in Australia directly.
408 Visa to Skilled Independent Visa (Subclass 189)
The 189 visa consists of three scheme applications such as:
Point-tested stream, you need to be invited by the Australian government when applying for this visa. This visa also requires you to be suitable for your current job, which they need you to demonstrate your skill assessment.
New Zealand stream, this stream is now closed for new applications from 1 July 2023,
Hongkong stream, this visa allows you who is an eligible Hong Kong passport holder to get permanent residency in Australia. They also need you to hold a suitable visa for at least 4 years with your previous stay in Australia.
Source: Skilled Independent visa (subclass 189)
To be clear, we've provided you with one scenario to describe what steps you need to take if you are the previous holder of a 408 visa and aim to apply for 189 Visa.
Scenario:
Young Lee (35 years old), a skilled head chef from South Korea, lived and worked in Australia on a 408 visa through a Special Program.
Due to changes caused by the pandemic, he was granted an extension of his 408 visa while working in Australia.
He is concerned because no sponsors can take responsibility for his staying longer in the country, even though he is under a long-term contract with the hotel where he has been working.
Before his visa expiration date approached, we, as his consultants before he came to Australia, suggested that he apply for a 189 visa to further his career in Australia.
Consequently, he followed the necessary steps for the 189 visa while still holding his 408 visas, such as:
Ensure that he has undergone a skill assessment, highlighting his qualifications as a head chef.
He got an English test to boost his ability; he needs competent English.
His skills assessment must have been obtained three years before the date of his invitation.
Once he received a positive skill assessment, he updated his Expression of Interest (EOI) and patiently awaited an invitation to apply for the 189 visa.
The minimum points required is 65 points.
When the invitation arrived, he submitted his application and awaited a decision.
He has to ensure that the Australian government invites him to apply for a 189 visa, while he has 60 days from the invitation date to apply for the visa.
The processing times for applying for 189 visas can be up to 6 months.
Ultimately, his application was successful, and he was granted the 189 visa.
This visa allows him to continue his journey as a head chef and as a skilled independent migrant, with the freedom to live and work anywhere in Australia.
Through the scenario, we've provided you with how someone needs to demonstrate the skill assessment and have an occupation that suits the skilled occupation list.
It also shows the process in which the 189 Visa requires:
lodgment of Expression of Interest with minimum 65 points
invitation from the Australian Federal Government to lodge a Visa application
lodgment of 189 visa application within 60 days after the invitation is received
If you are the nominated skilled worker and looking for an independent visa to stay and work in specified state or territory in Australia, you might consider this option below.
408 Visa to Skilled Nomination Visa (Subclass 190)
This visa allows you to stay and work in Australia permanently. While you must be nominated for this visa by an Australian state or territory government agency.
Every step to apply for Subclass 190 is required the same as 189 Visa, but with important requirements that we'll describe to you below:
Submit an EOI (Expression of Interest) and demonstrate your skill assessment.
Your skills assessment must have been obtained in the three years before the date of your invitation.
Waiting for nomination by an Australian state or territory government agency.
They have their criteria, and you need to contact them directly to know the nomination process and what they want from you as their nomination skilled worker:

Australian Capital Territory
New South Wales
Northern Territory
Queensland
South Australia
Tasmania
Victoria
Western Australia

After being nominated, apply for a 190 visa after ensuring the document required, such as:
You must ensure your eligible skilled list with skill assessment.
You have 65 points or more of your EOI.
You are under 45 years old.
You have never received a visa refusal.
Source: Subclass 190 Skilled Nominated visa
Which Independent Visa options should you choose?
By going through these two steps, you can identify the difference between applying for a 189 visa and 190 visa as options for you on how to get PR of Australia.
189 Visa allows you to work and live anywhere in Australia, and 190 Visa requires you to work and live in a specific state or territory within Australia.
Once you have this information, you can figure out on how to get PR of Australia based on the points you've accumulated while on a 408 visa.
While you are here looking for better options, you might have these questions:
Can I apply for 189 Visa with sponsors?
Can I have other options than 190 Visa if I get nominated?
ONE derland Consulting is always ready to give you the best legal advice and insight. Here's what we will do for you:
We will provide you with a tailored document checklist, to help you gather all required documentation for the visa application.
We will provide you with templates for letters, and statements.
We will liaise with the Department of Home Affairs on your behalf to ensure any information requests and deadlines are on time.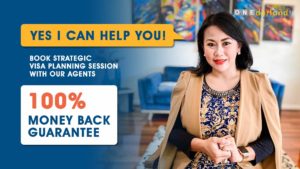 Are you looking for professional assistance for your visa application?
Our visa specialists at ONEderland Consulting will assist and give you complete suggestions on how to get PR of Australia, specifically if you hold a 408 Visa. We have a 98% success rate and are one of Australia's most highly recommended migration agents. Read our 4.9* score customer reviews.
We are complex visa specialists. As registered Australian migration agents with the Migration Agents Registration Authority (MARA), we are regulated in our professional practice and bound by the profession's Code of Conduct issued by the Migration Agents Registration Authority.
Take the first step and get in touch with us. Our team members are professional, honest and speak various languages such as Mandarin/ Chinese, Bahasa Indonesia, Arabic, Japanese, and Thai. Contact us through email at [email protected] or via phone on 1300 827 159. Alternatively, you may book your consultation online, and it is backed by our 100% Money Back Guarantee Program.