Immigration Program 2023-24 Update: Australian Visa Fee Increased
As the financial year is coming, the Australian Government has announced some changes for the immigration program, including the visa application fee for Australia. 
Just like the previous financial year, the Australian fee is expected to increase by a quite significant amount.
ONE derland Consulting has summarised the expected increased Australian visa cost below.
Visa Application Fee for Australia is Rising
In addition to the normal indexation, the government will raise visa application fee for Australia by 6 percentage points beginning July 1, 2023.
The charge for obtaining a visitor 600 visa, which is relevant to tourists, will rise by $40, from $150 to $190, while the expense for obtaining a student 500 visa, which is relevant to international students, will rise by $65, from $650 to $715.
A working holiday visa will also cost $640 instead of $510, which will affect backpackers.
According to the budget paper, only the Pacific Engagement Visa and the Pacific Australia Labour Mobility Scheme visas will be spared from the increases.
The increased Australian visa fee is anticipated to cost the government $100 million in 2023-24 and $665 million over a five-year period.
Albanese Government Plans More Things to do in 2023-24
Following a review that showed the nation's present immigration system needs to attract the most skilled individuals, Home Affairs Minister Clare O'Neil announced significant revisions to nearly every visa category.
The government outlined some key planned changes to repair the system, including doing rid of outdated, rigid occupation lists, getting rid of the points requirement for skilled visas, and creating a common temporary skilled pathway to bring in the essential skills that Australia needs.
Read more: UPDATE: Australian Government Increases Skilled Migration Income Threshold After Decade
Why does the Australian visa fee increase every year?
The government stated that it would spend $75.8 million over the course of two years, beginning in 2023–2024, to extend the current spike in visa processing resources, ensure the promptness of visa processing, and enhance current visa processing technologies.
To ensure these plans are going well, the government needs to increase the Australian visa fee. 
Overall, this is not the first time. The visa application fee for Australia has been increasing quite actively in the past years. 
Read more: Updated Australian Visa Charge 2023-24
What does it mean to you?
It means you must spend more pennies to simply have a leisure time in Australia with your family or friends, and it surely means higher fees should be spent if you want to stay in Australia permanently.
Considering that the visa application fee keeps increasing each year, why would you hold your visa application? 
If you urgently need professional assistance for your visa application, don't hesitate to click on the picture below: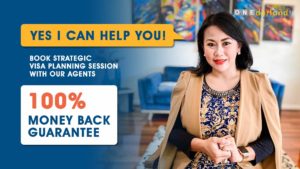 Looking for professional assistance with your Australian visa? ONE derland Consulting is ready to assist you!
Instead of waiting until the visa application fee increased, it's best to get your Australian visa now!
Our visa specialists at ONEderland Consulting will assist you with a skilled migration visa in Australia. We have a 98% success rate and are one of Australia's most highly recommended migration agents. Read our 4.9* score customer reviews.
We are complex visa specialists. As a registered Australian migration agent with the Migration Agents Registration Authority (MARA), we are regulated in our professional practice and bound by the profession's Code of Conduct issued by the Migration Agents Registration Authority.
Take the first step and get in touch with us. Our team members are professional and honest and speak various languages, such as Mandarin/ Chinese, Bahasa Indonesia, Arabic, Japanese, and Thai. Contact us through email at [email protected] or via phone at 1300 827 159. Alternatively, you may book your consultation online, and it is backed by our 100% Money Back Guarantee Program.